09/09/21 08:46
Garden Home Office Building for Work and Business
We have asked various office staff whether they prefer the present flexible remote and home-working environment due to the pandemic and restrictions at the work place and which work environment they prefer going forward to the return to work.
Answers received;
At first the idea of working from home seamed daunting and would be temporary but since the lockdown not having to travel to work gives me the freedom to consider getting a dog or indeed the benefits being at home to walk the dog on lunch breaks is a blessing.
Having the freedom to take the kids to school and collect them without having to ask friends and family for assistance makes the kids life happy and makes the family more secure and safe.
Saving money on childcare fees by having a flexible home business lifestyle means we can work around issues without being restricted to a 9-5 standard working day in one location away from home
Lowering the cost of running a car including fuel maintenance and mileage which is also better for the environment especially now with Global Warming taking effect on all our lives
Not wasting valuable time getting up early in the morning hoping to not hear of any accidents on our route to work and never knowing what time we will actually arrive home if stuck in traffic on the way home
The Dilemma;
Which room to use as your home office will it be?
The dinning room which will need to be cleared up each day as you have got to eat at some point
The living room in which the kids and partners like to watch TV
The kitchen in which you prepare your daily food and the constant noise of the fridge in the background
The spare bedroom that you use for guest is not ideal to leave the company laptop and customers details under GDPR rules
The shed was made for garden tools not really suited for a power supply due to ingress of water
The Solution Garden Home Office Building
A more permanent solution would be to have 4tress4u® services install you a Steel Framed Garden Building in the privacy and security of your garden that will free up your rooms to be used as they were made to be used as a "Home"
Benefits to Independent Business Owners
You will save money in the longterm as you will not need to rent business premises and could get a return of your investment in a short period of time
You will save valuable time and money on fuel costs as you will not have to commute to an external rented business location every day
You could reduce stress and anxiety to concerns about security at your external office location where you have limited control to protect your hard work from opportunist crimes
You will have more time for your family or hobbies as you are just a short distance away from your family
Less distraction associated when working within the house such as doorbells or from partners or kids will provide a more relaxed atmosphere whereby you can concentrate on running your business

The value of your home may increase as many buyers are now looking for homes with Home Office facilities
We are 4tress4u® services and we will provide you with the ultimate in Garden Home Office Installations "we provide the facility you provide your imagination and inspiration"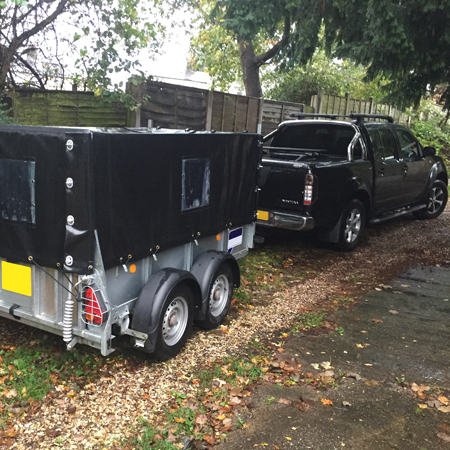 Photo of our truck and trailer delivering materials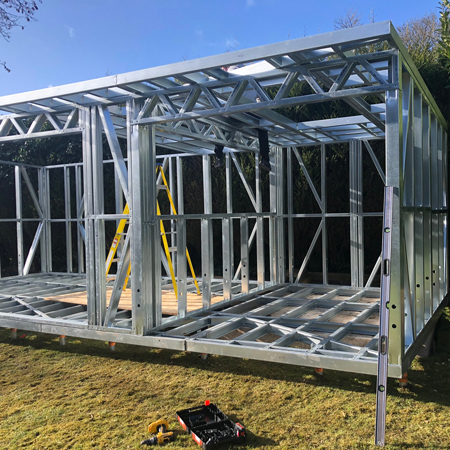 Photo typical Steel Framed Garden Building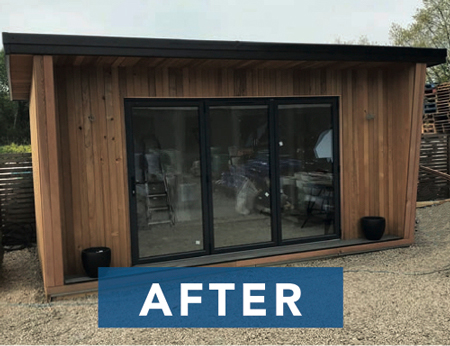 Photo typical installation